So, summer is on countdown. As they tagged this season, this is the perfect time for escapades and adventures. A week vacation is refreshing but of course we always have to take prime considerations on our budget, right folks? Well, i just remember sharing some travel pics when i had the chance to scan my wallet. I found numerous receipts from different hotels and shuttle buses. At least, it pays to be a traveler. You have receipts for souvenirs, hehehe. Anyway, i happened to check out a small leaflets from one of my travel. Its a beach resort located somewhere at the northern part of the region. They name their beach resort "
Haven of Fun"
because of its mini boracay appeal that is truly worth of a visit and a revisit. I was trying to figure if i could just visit the resort once more this summer. Hopefully, tagged some other friends who would like to share same adventure and travel itch.(lol).
Anyway, apart from the said resort, i also set foot to one the most sought after surfing destination in the place
(Calicoan Island)
. The place is famous because of the fantastic waves that is ideal for any surfing junkies. We happened to get some much deserved tour at the private resort and was truly amazed of the picture perfect one of a kind experience. No wonder because their rates will surely make a hole in your pocket and as far as ive known, famous national figures are constant visitors to the place all the way with their own chopper. As souviner, we got this rare shot behind the Calicoan wave.
Me at the center (white shirt) with the rest of the guys from the previous company.
On our last, the city tourism officer offerd a tour at their local we are so willing so take a glimpse at their place. We had few stops from historical places to some tourist destinations which most of the time are rare sights that if only be promoted will surely make thir place known.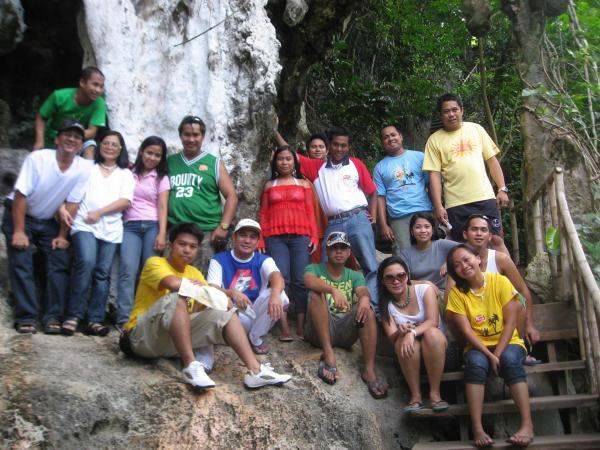 Taken at a private yoga house. They renovated a cave like structure and turned it into amazing yoga house which oversee the city.
A rare shot while roasting the pig. We bought 4 roasted pigs for a 3 day escapade. The other one was still raw so we gather some firewoods and roast it.
Yours truly - hosting the event.