I'd like to share every milestone of happy moments in this blog so i was thinkin that i can keep this posted if i'll share some good memories.I remember i havent shared yet some photos of Reanne's birthday. Reanne is a newphew who most of the time stay with me because of the separation of the latter's parents. Ever since she was still a toddler, she is fond of staying at the house and as family with grown ups, we missed a little sister in us so we always request for her presence. My fondness to any child extended up until now. Upon my partners learning of the nephew, the kid captured his heart and became so close to my love. They would often talk to each other if the hubby is not busy and the one and only spoiler. On her seventh birthday, i never had any plan of giving her a party. I was thinkin that maybe a treat at some fast food chain would do but my love suprised us when he told me to prepare a family party for her. True indeed, a simple celebration happened. So saturday came, i asked my sister help to prepare for the invitations and some activities for our children mini party. I asked the help of the girlfriend of my brother for some other stuff we might possibly need and then that same day we run our respective errands.That same night, we found ourselves busy preparing for party bags and for the pabitin. But, we didnt passed taking a little souvenirs.
After we're finally done with those candies and pabitin stuff, we prepared her ballons. Check out what we've got.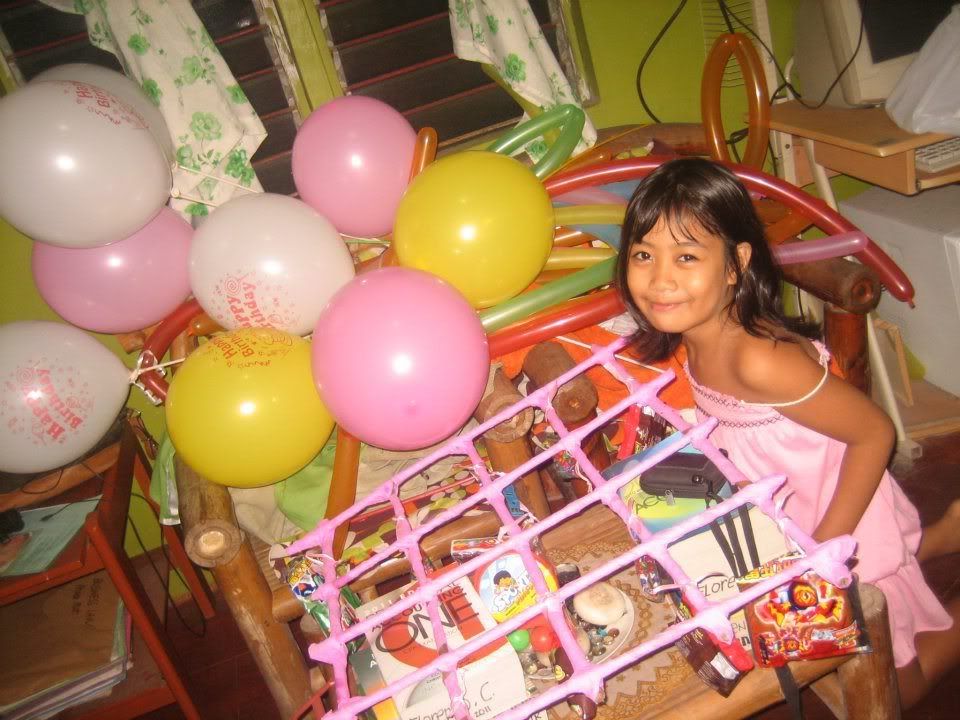 Then of course, the main day..it started with a mini program.We choose few individuals as birthday wishers and seven kids who would give her some message while blowing the mini cup cakes with candles on it.
Then followed the eating and games..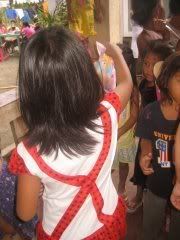 Distributing her party bags...with a cinderrela theme on it.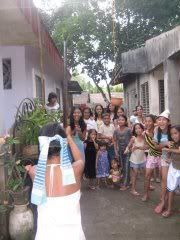 The favorite game of most bithday party.hehehe